The Quest For the Man on the White Donkey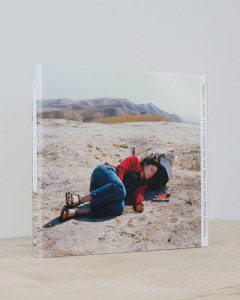 'The Quest For the Man on the White Donkey'
Published by Schilt Publishing from Amsterdam
Hardbound with dust jacket
Landscape / 24 x 29 cm / 64 photos in full color
Introduction by Bill Kouwenhoven and extracts by Yaakov Israel
Designed by LevievanderMeer
PRESS ABOUT THE BOOK
BEST BOOKS OF 2012 | Photoeye  Magazine
'The Quest for the Man on the White Donkey' was chosen by Markus Schaden and Sputnik Photos on their BEST BOOKS OF 2012 in PhotoEye Magazine
Markus Schaden | Publisher "Although I might have wished to experience this book in a larger format, I was extremely touched by Yaakov Israel's work. He tells us the ever-perplexing story of his home country in big pictures. With every reading, the book's magnetic force grows stronger".
Sputnik Photos | Photography Collective "Yaakov Israel is roaming around his country showing the remote areas of Israel. Looking at the quiet landscapes and intimate portraits it may seem we are very far from the complex political situation of the region. In fact that reality influences even these forgotten and unimportant places and Israel's pictures are full of context and history. There is some kind of tension under the strong burning sun. A very compelling, personal work that gives us a different view of that region".
Winston Riley | Photo-Eye Book Reviews
"The backbone and strongest aspect of Yaakov's book is his keen eye for describing land in such a way that illuminates its relationship with human artifice and history, while at the same time preserving what is wild, untamed and suprahistorical about it. It is precisely this suprahistorical perspective which Israel captures beautifully."
Miranda Gavin | HOTSHOE MAGAZINE
The Quest for the Man on the White Donkey also uses the device of mise en abyme – a term found in literary and artistic realms to refer to the play of signifiers within a text and of the mirroring of sub-texts, giving the sense of a story within a story. The reflection of images or ideas in the work means that the overall quest referred to in the title is just one of many quests embedded in the strata of each image
Conor Risch | PDN Magazine
For those who've seen his large-format landscapes and portraits, photographer Yaakov Israel has provided an opportunity to look more closely at Israel in a way that is curious rather than hypercritical, inquisitive rather than conclusive. His new book, The Quest for the Man on the White Donkey (Schilt), is the product of a years-long exploration of the nation of Israel that focuses on small details in the landscape that reveal something of its inhabitants—past and present—and on Jewish, Christian and Muslim people the photographer has come to know along the way.
Joerg Colberg | Conscientious website
The Quest for the Man on the White Donkey
features photographs of Israel/Palestine, taken with a view camera. Mixing landscapes and portraits, the photograph – at least for me – establish a general feeling of discomfort, a feeling of encountering promises and then seeing those promises broken. The book is filled with images of barriers, literal and metaphorical ones. The people seem stuck in an odd sort of paradise, where bliss is to be had, but something else – possibly violence – always seems to be lurking right around the corner. I just finished reading
Geoff Dyer's Zona: A Book About a Film About a Journey to a Room
, and Israel's photographs reminded me a bit of the idea of the zone from
Stalker
, the place that might or might not exist, where your ultimate dream will be fulfilled. (
read the review
)
Andrea Filippin | Urbanautica Website

The term "quest" used for the title, finally, is a further opportunity for reflecting on perfect balance with the nature of this extraordinary journey that is worth sharing, and urges us to actively consider the role of the artist in the construction of his work – again, in the construction of himself as anyone that lets himself be lead forward – stripped from any liability of an expected messianic revelation, for a more resolute self-assertion of an individual personality, once again the best reflection for what is universal that each can share and recognize. (
read the review
)
Jonathon Beattie | FOTO8
"This book is a wonderfully humane project resounding out of the noise and turbulence of the modern Israeli landscape" (read the review)
Renata Bittencourt Grasso | GUP Magazine
In the predominantly symmetrical compositions of Yaakov Israel's minutely detailed photographs, the geographical and social landscapes are often found to meld together. The evocative, frank and straightforward nature of his full-length portraits seem fully contingent to the relationship between his subjects and their generally desolate and uninhabited surroundings. Similarly, Yaakov Israel's landscape photographs evidence the same symmetrical tendency as his portraits, whereby a sense of balance and proportion are never absent from his photographs. (read the review)
Conscientious website photobook presentation
Joerg Colberg's posted a photo-book presentation of 'The Quest for the Man on the white Donkey' on New photobook presentations (Weeks 11-14, 2012) section (April 2, 2012)

'Landscape Stories' website photobook presentation
Photo-book presentation of 'The Quest for the Man on the white Donkey' on Landscape Stories
(March 5, 2013)